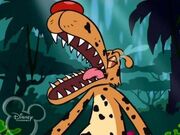 Lorenzo
Di Giovanni El Jaguar
- A jaguar, who appeared in
Taking Paws
(2004) Mr. Whiskers found Lorenzo in the bushes, while he was playing hide and seek. Lorenzo lived with Brandy and Mr. Whiskers for some time but his behaviour irritated them and they were afraid of Lorenzo as he could eat them. 
He likes to tell jokes about lemongrasses. He was voiced by Bobby Slayton.
He resembles Chester Cheetah.
Lornzeo's fandrom name is Lorenzium.