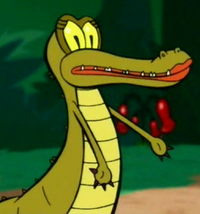 Mama Crocodile - A crocodile, who appeared in "The Babysitter's Flub", where Brandy and Mr. Whiskers had to babysit her 9 eggs, or else she would eat them. You can tell that she has that "bossy school teacher" attitude and is really sometimes ticked-off and happy at the same time. She never appeared in any other episodes, except in some episodes, you can see a crocodile with lipstick and eyelashes just like Mama Crock, except she can stand on her hind legs (If you consider her the same person). You'll have to look closely, because she blends in with the rest of the jungle animals.
Ad blocker interference detected!
Wikia is a free-to-use site that makes money from advertising. We have a modified experience for viewers using ad blockers

Wikia is not accessible if you've made further modifications. Remove the custom ad blocker rule(s) and the page will load as expected.